Flyna Plots
are episodes that have Flyna as the main plot of the episode. The following are episodes that have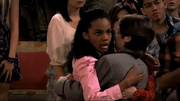 Chyna and Fletcher pairing as a Main Plot.
Plot: Fletcher confesses to Angus that he's sad because Chyna doesn't notice him, so throughout the episode he tries to bond with Chyna's dad to get closer to her.
Plot: Chyna and Fletcher try to get Gibson back together with his ex-girlfriend while Fletcher's advances towards Chyna go unnoticed.
Plot: Chyna falls for a new student in the A.N.T. Program from England. He's also an artistic genius and is using a robot to attend school remotely. Chyna later tells Fletcher that there's this artistic guy she's interested in and she was wondering if she should ask him out. Fletcher thinks Chyna is talking about him and tells Chyna to ask him out. After Chyna invites Nigel to go roller skating, Fletcher gets jealous and, along with Angus, devises a plan to sabotage Chyna's date.
Plot: When Fletcher gives Chyna a plane and the smokes spell out I LUV YOU, Olive says the only way to get Fletcher to back off is to lie about having a boyfriend. When Chyna pretends to have a boyfriend, an embarrassed Fletcher pretends to have a girlfriend, prompting Olive to suggest they go on a double date together. They both have to get fake dates.
Plot: After Chyna gets the lead in the school musical, a jealous Lexi is determined to sabotage the show with the help of Fletcher by telling the guy who created the play that Mr. Zimbaldi didnt pay for, who is worried that Chyna will fall for the handsome leading man, Jared. Fletcher at the end gets his hug from Chyna.