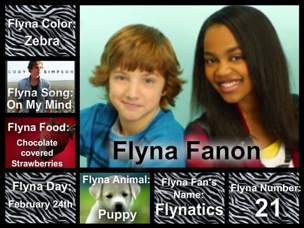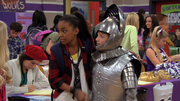 Flyna Fanon are things hinted by fans with facts to prove it.
Flyna Episode:SignificANT Other. Fletcher and Chyna finally pursue their romantic relationship.This episode mainly focuses on both of them.Runner up is EndurANTS because Chyna was going to admit she has feelings for him but the boomerang hit her head which could have cause her to forget what she was going to say.
Flyna Color: Zebra. Chyna often wears Zebra, and the color shouldn't be plain since Fletcher is very artsy.They are both very colourful espically when it comes to their clothing.
Flyna Song: My Crush. This song was performed by China Anne McClain, who plays Chyna, and Fletcher has a crush on Chyna. It probably also represents how Fletcher feels about Chyna.
Flyna Food: (Chocolate-covered) Strawberries. Fletcher tries to feed Chyna a chocolate-covered strawberry in Bad RomANTs, and she nearly lets him until the doorbell rings.
Flyna Day: February 24th. This was the day Some EnchANTed Evening aired, which is the episode where Fletcher admitted to Chyna his feelings.Runner up is EndurANTS because in this episode it it shown Chyna was going to admit she likes Fletcher also.Aired on July 13th.