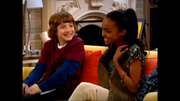 There are many couples/ships who have relationships similar to the Flyna relationship in forms of modern media, including canon couples.
Carly/Freddie (From iCarly)Edit
Freddie has a crush on Carly just like Fletcher has for Chyna.
Freddie is unpopular and Fletcher is also unpopular and quite geeky of his art.
Carly always giggled when Freddie will flirt with her but immedially will bring him down unlike when Fletcher firts with Chyna she just giggles with no rejection like Carly.
Freddie and Carly are also best friends with Sam, like Fletcher and Chyna are also bffs with Olive.
Lizzie/Gardo (From Lizzie McGuire)Edit
Tori/Andre (Victorious)
Edit
Andre worked hard to get Tori in
They are bffl
Andre goes to Tori for help
Kacey/Zander (How To Rock)
Edit
Zander goes to Kacey for advice/help
They're both kinda popular