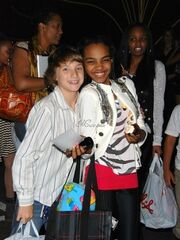 Chake (Ch/ina + J/ake) is the real-life pairing of China Anne McClain and Jake Short. They both seem to be close friends and very connected, such as when China posted on her Twitter account that she loved Jake. They are currently co-stars on A.N.T. Farm. They hang out a lot, and go to movies which makes them very close and can one day perhaps lead up to romance.
Chake Moments
Edit
China Anne McClain tweeted that she loved Jake Short.
During rehearsals, she laughed at all his jokes and had fun with him (and Sierra).
They both posed for pictures at Madison Pettis's thirteenth birthday

party

and Jake called Chyna awesome and very talented which China gave him a big hug for, as seen in the video.
Before A.N.T. Farm, they worked on a TV pilot (which didn't get picked up by Disney Channel), "Jack and Janet Save the Planet," with Sierra McCormick.
In her second Radio Disney interview, China describes Jake as very artistic. She says that he actually has notes and ideas that help the show.
Jake hugged China at the 2011 Disney Expo.
China tweets to go vote for Jake Short for the Kids Choice Awards. She says he is an amazing friend and that she voted for him "like 50 times".
They were both at the NACCP awards and they took a lot of pictures together (with the cast).
Jake has tweeted he was eating lunch with China (and SIerra) on 2011 stating they're close.
They both follow each other on Twitter, and Jake follows China on Instagram.
In an interview with Joslyn Davis (from Clever Tv News) 'at the D23 Expo, Jake Short was asked what was the show that he grew up with in Disney Channel. His response was "Hannah Montana" which was the show that China (and Sierra) guest-stared in.
Usually when they both have interviews and they ask for each other's opinions they both get kinda of nervous.
It's possible China and Jake went together to the KCA's due to pictures being took before even arriving.
One of the pictures (possibly more) was one with China's sisters and China posed next to Jake and if you look closely you can see Jake's arm around her waist.
They both attended to the 2012 Kid's Choice Awards and took pictures together.
Even though China didn't get nominated for a blimp, she went anyway to support Jake.
Chake/Gallery
Edit